Testimonials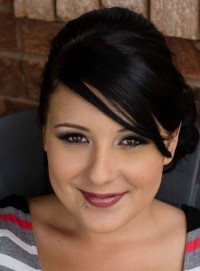 Katie! I just want to say thank you so much! Myself and all my ladies looked absolutely stunning for my wedding day!! I'll be sure to send you tons of pictures :)
-Ashley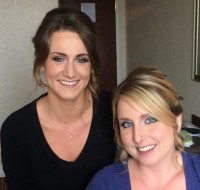 Katie is professional and organized, she made me feel beautiful. She gave me an up-do and make-up that lasted all day long. It was a very warm summer day for my best friend's wedding and all of our hair and makeup still looked perfect by the end of the night. Highly recommended!
-Amber
My hair was great for the wedding. I got nothing but compliments all day! Will send a picture in the next few days. Thanks so much!

-Rebecca S
Katie did my hair and all my girls hair for my wedding this past October. Simply one word to describe Katie's talent....amazing!!!! We all had different hair styles for my special day and each and every one of us loved our hair and was really happy. Katie did a great job. Katie is also a very nice, outgoing lady and easy to work with. I highly recommend her and I know if I ever need my hair done again, I know who to call :)
-Jessika
Hi Katie,
I hope this email finds you well! :)
I wanted to thank you for the wonderful job you did on my hair and make-up for my wedding! It was exactly what I wanted and I honestly don't think I've ever looked that good before! I received so many compliments on the hair and make-up! Similarly, I loved the hair and make-up you did for my sister and my mom, and our hair and make-up lasted for the entire day!
I am so happy and feel so lucky that I found you and you were available (and willing) to work with me, and I will definitely think of you for further occasions.
I don't have any pictures from the photographer yet, but I've attached one of me and Nate goofing around in the photobooth that we rented for the wedding.
I wish you the best in all of your endeavors! :) Thank you again!
Best,
-Helen
Hey Katie,
I just wanted to say thank you for everything on Saturday! Everyone looked beautiful and the day was perfect and went very smooth, thanks to your help with the hair and makeup!
Also, I was wondering what makeup you used on me? I loved how it matched with my skin as well as the primer was awesome!
Do you mind sending me the pictures you took of everyone's hair?
Again, thanks so much!
-Lisa B
Hi Katie,
Thanks so much for taking the time to meet with my mom and I this morning - I was so happy with your work :) I hope the rest of your afternoon went well!!
Have a great night!
-Jocelynn M
Katie did mine and my mom's hair for my wedding. She listened to exactly what we wanted and did exactly what we wanted. She is very professional and very very good at what she does. Her prices are amazing as well. I would recommend her to anyone for any event!
-Rhonda N